Choose the desired research link on the navigation bar above.
Robert's genealogy research is summarized in his Family Tree. Additional specific information about branches of his family tree are presented in Sichard-Bangert Research, and Shubert Research.
In addition, information about Robert's branch of the world-wide Malseed family [i.e. the John Malseed (1790) branch] is presented on the general Malseed portion of the web site (www.malseed.com) under Branches.
For your convenience, here is an abbreviated Pedigree Chart showing Robert's known ancestral surnames.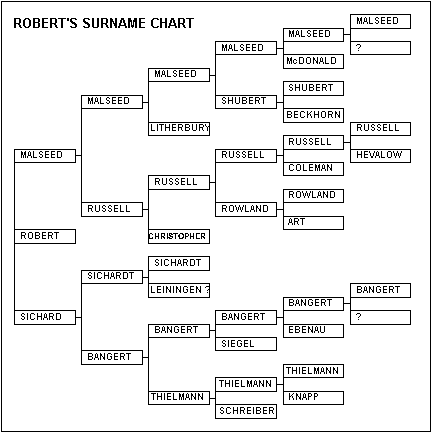 Surnames: Malseed, Sichard, (Sichardt), Russell, Bangert, Litherbury, Christopher, Leiningen, Thielmann, (Tillman), Shubert, Rowland, Siegel, Schreiber, McDonald, Beckhorn, Coleman, Art, Ebenau, Knapp, Hevalow, Prettyman
Page last updated: 14 March 2007