8 December 2000 Click on the pictures to enlarge them.

Christmas greetings! Best wishes to all from Albuquerque! This has been another eventful year. In May, we took a trip to Arizona and southern Utah and in June we went to Salt Lake City for 10 days. We wrote about those trips in our July 4th letter. Since then, we have made three additional trips. One was to Ridgway, Colorado, the second was to Texas, Oklahoma, Missouri, and Kansas, and the third was to Dolores, Colorado, for Labor Day weekend.

FAMILY DOINGS
Linda's brother, James, and his wife, Norma Jean, celebrated their first anniversary on 30 July. Their older son, Matt, graduated from high school and started college at New Mexico State. Since August, Linda has been teaching school at Hope Christian School. She teaches 8th grade English Literature, and 6th grade Math, Science, and Reading. It has been a very heavy load for her.

COLORADO CAMPING
In mid-July we took a one-week camping trip to Colorado. Joining us were our friends Kent and Julie from Las Cruces. They traveled in their own truck and camper. They drove up to Albuquerque one Saturday, and then they followed us to McPhee Reservoir in southwestern Colorado. We spent the night there and continued on up to Ridgway State Park the next day. The park is on Ridgway reservoir just north of the town of the same name. The town is about 11 miles north of Ouray. We spent five nights at the park. We explored the small town of Ridgway and its surrounding area. While driving on the road on top of the mesa that is west of the reservoir, we found ourselves going down the road alongside a bobcat. The cat disappeared before we could take a picture. That is the first time we had ever seen a bobcat in the wild. One day we all went in to Ouray in our Suzuki Sidekick, and then Robert drove us over to Telluride - but not the easy way. From Ouray, one can drive on the highway around the mountains via Ridgway and Placerville about 53 miles to Telluride. We took the "direct" route - over the mountains. The drive is pretty easy from Ouray to just beyond the Lower Camp Bird Mine where we turned off on the jeep trail to the Upper Camp Bird Mine. Recent rains had left that part of the trail wet and filled with water in some places. When we reached Imogene Creek we paused for a rest before climbing up higher.


Robert, Julie, and Kent ready for Imogene Pass.
We ran into some rough places in the road. At times the passengers got out so Robert could get up over rocks, ledges, and washed-out areas. When we reached the Upper Camp Bird Mine in the old glacial cirque, we noticed how abundant and beautiful the wildflowers were.


Columbine along the trail above upper Camp Bird.
The road zigzagged up from the upper mine to Imogene Pass at 13,114 feet (3,997 m).


Looking back to Ouray.



A group photo at the top.



At the top looking down on the rest of the world.
We wondered if the road down into Telluride would be better or worse than the road up from Ouray.


Looking over the other side to Telluride.
The high altitude and rough ride made Julie feel somewhat weak, so she was happy to start down. The road down seemed to be of better quality. It passed by the Tomboy mine. We stopped there to look at the old mining ruins. Further down, we could look up the valley we had driven down from Black Bear Pass in 1994.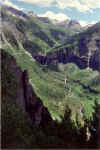 Looking up toward Black Bear Pass.
That was the roughest jeep trail we have ever been on. We are always amazed to realize that thousands of miners lived and worked in these mountains and that stages and mule trains carried everything in and out on these roads.


Telluride spread out below us.
We had a late lunch in Telluride and rode the gondola over to Mountain Village before we drove back to camp via the highway. We relaxed the next day in Ouray and in its famous hot springs. The next morning, Robert took Kent down to Silverton and then drove over Stony Pass to the headwaters of the Rio Grande. Kent and Julie live on the banks of the Rio Grande just north of Las Cruces. Up at Stony Pass, however, one can stand with a foot on each side of the river.


Robert straddles the Rio Grande.
At the end of the week we returned to McPhee reservoir for a night. That is when we saw the large fire that had broken out in Mesa Verde National Park. In the morning, the air was full of smoke as we departed for home. When we arrived in Albuquerque we had two days to prepare for our next trip.

TO THE LAKE OF THE OZARKS
We headed east on our next journey that would take us as far as the Lake of the Ozarks in Missouri. There we would visit Linda's Baxter cousins. Along the way we would attend her Fruechting family reunion in Oklahoma. Our first stop was in Palo Duro Canyon State Park in Texas. We have been there twice before, but this time we stayed two nights and saw the musical production "Texas" which is staged nightly in the park. We enjoyed it very much. From there we visited our friends, Mike and Marylisė Rhoads, in Broken Arrow, OK. A short distance from there we joined the Fruechting Family Reunion at Sequoyah State Park on Ft. Gibson Lake in eastern Oklahoma.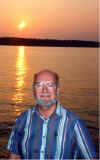 Robert at sunset



Linda with cousins at the Fruechting reunion on Ft. Gibson Lake.
On our trip to Salt Lake City in June, Robert had found much information about where his Shubert ancestors and cousins had lived in Missouri. After the reunion, we drove to Pulaski County in Missouri and stayed one night in Waynesville. The next day we drove to Richland where Garrett Shubert and nine other Shubert family members are buried. In 1976, Robert had inherited letters that his great great granduncle, Garrett, had written to his sister during the Civil War. Now we finally found where Garrett was buried.


Robert at Garrett's grave.
He moved to Richland to be near his children late in his life. Earlier, he lived at (Old) Linn Creek. Old Linn Creek now lies beneath the Lake of the Ozarks. We visited the Camden County Historical Society in the present Linn Creek. There we found more information about the Shubert family and also shared our information with them. We stayed for a few days with Linda's cousins who have a home on the lake. We enjoyed boating on the lake with them. One day they took us to the site of Old Linn Creek.


Linda on the Lake of the Ozarks.
After a few days with Linda's cousins, we headed west into Kansas and spent two nights at Marion County Lake, and visited some of Linda's Kliewer cousins in Hillsboro. Then we drove into Oklahoma and visited Kliewer cousins in Fairview before moving on to Tucumcari, New Mexico. We visited the newly opened Mesalands Dinosaur Museum in Tucumcari. It is a very well done museum with informative displays. We met the curator, Adrian Hunt, who had taught a couple paleontology classes that we had taken several years ago. The next day we returned home.

ROBERT'S FAMILY RESEARCH
Robert discovered much information about his family at the library in June. Since then he has also discovered and made contact with his Leinius cousins in North Dakota. In addition, via the internet, he found a Russell cousin in Wisconsin. He also discovered on the internet that his 3rd great-grandfather, John Malseed, was ship-wrecked on his journey to America in 1821. He left Londonderry on the Dominica Packet, an old ship built in 1784. The passengers were rescued from the Dominica Packet by the ship Midas that was sailing out of Antwerp. They were taken to Lisbon, Portugal. There, the Midas was condemned because it was leaking, so John Malseed and 5 others sailed to New York on the brig Agnes. We were wondering why he arrived on a ship from Lisbon. We had assumed it made a stop in Londonderry.

LABOR DAY WEEKEND IN DOLORES
After school was out on 1 September, Robert picked up Linda and we headed to Dolores, Colorado, and arrived after dark. The Chaparral Chapter of the Family Motor Coach Association was holding a rally there. We enjoyed the weekend with our friends, and we also drove high up in the La Plata Mountains to the Bessie G Mine. It was also good to see that the fire at Mesa Verde was out. The weekend was too short, however, as we had to return on Monday. This was the third year we have been to the Labor Day Weekend rally.

THANKSGIVING
Linda's cousin, Carolyn, and her husband, Nelson Greer, spent Thanksgiving weekend with us. They were returning from their first trip in their new motor coach - a custom-converted 45-foot MCI bus.


Carolyn & Nelson and their new bus.

AT SCHOOL
During the International Balloon Fiesta in October, Linda saw balloons land at Hope Christian School.


Balloons land at Linda's school.

THE BOTTOM LINE
We continue to be thankful for the Lord's providing for us in all ways. We trust in Him, and pray that you will do likewise and enjoy a blessed Christmas season and New Year as well.

Love,

Robert & Linda
& Pico
Page last updated: 14 March 2007