1 December 1999 Click on the pictures to enlarge them.
Christmas greetings at the conclusion of a great year. The Lord has really blessed us this year. At the beginning of the year, Linda's brother announced his engagement to Norma Jean. In July they tied the knot and settled into a new home. Robert's cousin, Beth, announced her engagement also. She and Les were also married in July. We will say more about the weddings later. We spent over 1/4 of the year away from home (99 nights). We put 11,084 miles on our new Safari Trek motor coach, and visited several major National Parks - Grand Teton, Grand Canyon, Carlsbad Caverns, Crater Lake, Yosemite, Yellowstone, and Zion.
We sent out our July 4th Newsletter just after we got home from a trip to Idaho. Then we had to start getting ready for Beth's wedding.
ALOHA 1999
Beth and her fiancée, Les Araki, were getting married in Hawaii, so we decided that it was time to go back there. We had gone for our honeymoon 20 years ago. While we were there in 1979 we saw Robert's cousin Bill Erler and his wife Mary and their three children, Suzanne, Beth, and Steven. Since then, we have seen Beth twice since she moved to the mainland to teach in Tucson and then later in Jacksonville, FL. We were excited about returning to Hawaii and seeing everyone again.


Robert, Jan, and Bill in Hawaii.
We flew out on 13 July and stayed in Waikiki. Robert's cousin, Jan Sorensen (Bill's sister) also went. It was the first time since the 1950's that Robert, Bill, and Jan had been together. (Robert and Bill each spent a career in the Air Force.) We had fun visiting with each other as well as seeing things we missed 20 years earlier.


Linda cruising off Diamond Head.
We went to the Waikiki Aquarium, Maritime Museum, Aloha Tower, Orchid Nursery, Diamond Head Crater, Ala Moana Shopping Center, Army Museum, Hickham Harbor, USS Missouri, Magic of Polynesia show, the Honolulu Star dinner cruise, and took a drive around the island. We enjoyed seeing Bill & Mary's "new" home in the heights overlooking Pearl Harbor. Robert helped Bill set up his new computer. Suzanne, Beth's sister, has also moved to the mainland to Redmond, Washington. We told Suzanne we would be seeing her in September as we had a motor home trip planned to the Seattle area. Beth and Les were married on the 16th.


Beth & Les Araki.
We returned home on the 22nd.
BAXTER WEDDING
Now it was time to prepare for James and Norma Jean's wedding. The big day was 30 July. Linda and Stacy were Matron of Honor and Junior Bridesmaid. Rick Haire (Stacy's uncle - her mother's brother) was Best Man, and Norma Jean's two sons, Matt and Chris gave her away.


James and Norma Jean.
Randall Stotts performed the ceremony. He is associate pastor of Hoffmantown West. That is the mission church we (Hoffmantown) established in January and was meeting in Petroglyph Elementary School on the West side of the Rio Grande. Not long after the wedding, Randall heard that there was an opening for a third grade teacher at Petroglyph, so he called James. James got the job. Now he can teach in Albuquerque instead of over 30 miles away in Belen. He was also able to sell his home in Los Chaves. They are now all settled into their new home in Albuquerque, and we are very happy for them.


With Chris, Stacy & Mat.

TREK TO SOUTHERN NEW MEXICO
While James and Norma Jean headed off to Colorado for their honeymoon, we took care of Stacy, and went on a trip in our Trek to southern New Mexico from 4 to 10 August. Stacy had never been down there. We camped first at The Valley of Fires, one of the youngest volcanic areas in our state. The lava flow is about 1,500 years old. The next day we visited Smokey Bear State Park in Capitan. Smokey was found near there in the Lincoln National Forest after a fire in May 1950. He is now buried at the park. A short distance east of Capitan is the town of Lincoln. We stopped there next. It was the scene of the famous Lincoln County War in 1878, and is well known for Billy the Kid's escape from the county courthouse on 28 Apr 1881.


Linda & Stacy escape from the courthouse.
We saw the old courthouse and many of the other historic buildings in town. The courthouse did not have the front stairs in 1881. The next night we stayed in Bottomless Lakes State Park just south of Roswell. In the morning, we did some swimming and boating on the lake by the campground.
That afternoon we drove south to White's City just outside of Carlsbad Caverns National Park. The following day, we went down into the caverns and spent most of the day. We returned to the cave entrance at sunset and watched the bats fly out as they do each evening. It seemed as if there were more bats than when we were there in 1983.


Ready to enter Carlsbad Caverns.
From Carlsbad, we headed over the Sacramento Mountains and camped at Oliver Lee Memorial State Park south of Alamogordo. We took Stacy on a tour of Holloman Air Force Base, where Robert was stationed from 1969 to 1972. Robert's cousin Bill Erler was also stationed there with his family most of that time. Just west of Holloman is White Sands National Monument. We went there just before sunset, and enjoyed hiking over the pure white dunes of "sand". (It is really gypsum crystals.) As usual, Pico really enjoyed running over the white sand dunes.


Linda, Stacy, and Pico enjoy White Sands.
The following day, we drove up into the mountains and visited Apache Point Observatory, and the Solar Observatory at Sunspot. We spent some time in the town of Cloudcroft, and then returned to Alamogordo for a quick look at the Space Center there. The next day we returned to Albuquerque.
SAFARI HOMECOMING 1999
We wanted to go to the Safari Motorcoach Homecoming Rally at the factory in Oregon, so we made a wonderful trek to the Northwest. We left Albuquerque on 2 September and saw a couple brief rain showers that day as we drove to Dolores, CO. However, we saw no rain for the remainder of our 30-day, 4,198-mile, trip. In Dolores we participated in a Labor Day weekend rally with the Chaparral Chapter of FMCA. Thirty-five families were there. We got together for breakfast and supper and various other activities. We left Dolores on Labor Day, spent one night at Salt Lake City, and continued on to Twin Falls, Idaho, to see the impressive Shoshone Falls on the Snake River.


Shoshone Falls on the Snake River.
Later that afternoon we continued on to Mountain Home AFB, ID. We spent two nights in the campground there and visited with our friends, Steve and Angelika Hurley and their three boys. We also went out to look at Bruneau Canyon, just south of the Snake River, and were entertained by a large Golden Eagle. Next stop was a campground on the Columbia River in Umatilla, Oregon. The next day we crossed the river into Washington and reached the Salish Lodge by Snoqualmie Falls. Robert's cousin, Suzanne Erler, works there as director of sales and marketing. We hiked to the bottom of the falls and back, and then met with Suzanne and followed her home to her place in Redmond. We spent a weekend there. Suzanne took us into the mountains to visit the town of Leavenworth, an American replica of a Bavarian town. It was a lot of fun.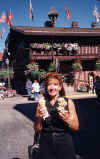 Suzanne enjoys ice cream at Leavenworth.
We also took a look at the Microsoft campus in Redmond, and went to the waterfront in Kirkland on Sunday after church. Sunday evening we all went to Linda's cousin's home in Kirkland. Steve and Patsy Gremminger live there with their two children, Merissa and Shawn.


Linda with Shawn, Merissa, Patsy, and Steve.
When we left Suzanne's on Monday, we went to visit Missy and Will Thomas, Linda's friends in Beaverton, OR. After departing there the next day, we made a stop at Tillamook to see the famous cheese factory and then went on to Depoe Bay on the Oregon coast. The next day we went to the Safari Rally at Harrisburg, OR. It was a lot of fun. There were about 550 coaches present.


Over 550 Safari coaches gather at the factory.
We even met the parents of the pastor (Dale Coffing) whom Robert had worked for at Hoffmantown Church. We knew they also had a Safari Trek, but didn't know that they would be at the Homecoming. There were a lot of seminars to attend and good food to eat at the rally. We were also given tours of the factory and met several people who built our coach. They came out and adjusted our bed for us to give Linda a little more walking headroom while the bed is in the ceiling, and fixed a couple of minor problems we had. After the rally we spent 4 nights along the Oregon coast. From Carl Washburne State Park we visited the Oregon Coast Aquarium, Cape Perpetua, Heceta Head Lighthouse, and Sea Lion Cave.


Heceta Head Lighthouse.
At Coos Bay we visited the Historical Museum and the myrtle wood factory. Then we went down to Cape Arago State Park where we observed a herd of Sea Lions swimming and sitting on the rocks and barking in the fog. Nearby Shore Acres State Park had lovely gardens that we toured. We also enjoyed watching the activity in Coos Bay harbor. The RV park was right on the bay where a dredge was deepening the ship channel. The only disappointment of our trip was the fact that the Oregon coast was foggy each day. We headed inland from Coos Bay so that we could visit Crater Lake. Along the way we stopped at Toketee Falls, one of many waterfalls in the mountains north of the lake. It was a lovely waterfall tumbling over a cliff of columnar basalt.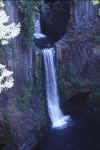 Toketee Falls.
We stayed two nights at Crater Lake National Park. It was gorgeous. At an altitude of about 6,000 feet, and with a depth up to 1,932 feet, the water was so deep blue in color.


Crater Lake showing "Phantom Ship".

Crater Lake showing Wizard Island.
Our next stop was Jedediah Smith Redwoods State Park in California. With all those giant trees, it is a wonderful place also, and was a return trip for us as we had spent a night there in 1980. However, try as we might, we could not recognize any campsite as the one we occupied 19 years ago. Our next stop was a night at Clear Lake S.P. Then we moved south to spend 2 nights at Yosemite N.P. That was also a return trip for us, but the town site just outside the park where we had stayed (and celebrated our first anniversary) in 1980 apparently had been wiped out by a flood. The park is beautiful and extremely popular. The campgrounds were full, but we had made reservations before leaving on the trip. We had a very nice campsite, and spent a day visiting some parts of the park we missed 19 years ago. We even got to see a bear.


Half Dome viewed from Glacier Point.
Then we went down to Bakersfield. As we went through a construction zone on highway 41, a pebble hit our left windshield, and later a crack developed. (The windshield has now been replaced.) We finally saw some hot weather in Bakersfield. That morning Robert noticed that our fresh water tank drain valve was dripping, so we called Safari and they had it replaced as soon as we got back home. Our next stop was Needles. Then we stopped at Cholla Lake County Park in Arizona for our last night before arriving back home. We arrived in time for Linda's brother's 50th birthday party. (The birthday was really on 28 Sep, but they waited until Saturday, 2 Oct, to have a party.)
SWEET AND SOUR
The last weekend in October was a happy one for us as Linda's cousin, Mary Helen, came from Alexandria, VA, with her husband Tommy Fitzgerald. They were here for UNM homecoming and Tommy's 50-year reunion. They were happy to meet Linda's mother again and to see James' new family. (Linda's mom and Mary Helen are first cousins.) It was an enjoyable and all-too-short four days. They flew back home on Monday, and unfortunately about an hour after arriving home, Mary Helen fell ill. She had a stroke. On the next afternoon she had a cerebral hemorrhage, and she passed away on Thursday morning. We were all shocked and saddened. Linda's mother would have loved to go to Alexandria for the memorial service, but was not physically up to it. We went, however, and flew out on Sunday. The service was on Monday. Several other family members had flown there including Linda's cousins Steve, Patsy, Merissa, and Shawn from Kirkland, WA, Tim and Carol Fitzgerald from Austin, TX, and Naomi and Wilmer Fast from Hennessey, OK. We also spent Tuesday there and visited the DAR library in Washington, DC, to do a little more family history research.


Large family gathering.

Tommy and Linda with Tim and Patsy.
On Wednesday, we moved over to stay with Robert's cousin, Jan Sorensen, in Towson, Maryland. We stayed there until Sunday, and had the opportunity to visit with Jan's children and grandchildren and Robert's nephews John and Jim Abell and Fred Senkel.


Robert with Fred and Jim.



Robert & Linda with Maria & JohnAbell and Fred.



Robert with cousin Bill, Jane, and Rachel.
We also saw uncle Robert Sichard and cousin Bill Malseed. It was good to see them all, as we had not been back there since 1995. We also discovered some old Sichard family photos.


With Eleanor, uncle Robert, and cousin Jan.

William Sichard 20 Dec 1897. Robert's maternal grandfather.



George C. E. Malseed Sr. This is the only old Malseed family photo that we have.

DISTANT COUSINS
In September, Robert received e-mail from a Robert Malseed in California. From the information he gave, we believe he is Robert's 3rd cousin - a descendant of Robert's great-grandfather's brother.
Robert has also corresponded with James Malseed of Shankill, Ireland. James teaches Computers, Science, and PE at a small Church of Ireland elementary school south of Dublin. We found especially interesting the fact that his family believes that the Malseeds were originally French Huguenots who migrated to Ulster. Ulster is the northern of the four provinces of Ireland. Most of it makes up the Northern Ireland of today. Beginning about 1610, lowland Scots crossed over to settle in the Ulster Plantation that the English had established. That introduced Presbyterianism into the area. Late in the 1600's, after the revocation of the Edit of Nantes, many Protestant Huguenots left France and some of them went to Ulster where they joined the Presbyterians. Robert has verified that his 3rd great grandfather who came from Ulster was Presbyterian. Robert's dad used to speak of the family as being Scotch-Irish, which is a term used primarily in the United States to refer to the Scots who moved to Ireland and, for the most part, maintained a culture separate from the Irish. Since Huguenots mixed in with them, a French origin is also possible. Edward MacLysaght, in his book of Irish Surnames, says that Malseed is probably of Dutch origin. We don't know where that theory came from unless he felt they were among Dutch troops who fought with William of Orange. Well, wherever Malseeds came from when they moved to Ulster, they didn't seem to have left anyone behind. Today, Malseeds are found primarily in Great Britain, Ireland, the U.S., and the state of Victoria in Australia.
OTHER ACTIVITIES
Linda has been busy with various craft activities. She is working on quilting projects. She will also be teaching a silk ribbon embroidery class in our church's women's ministry this winter as she did last year.
We also remain active in various other adult ministries at church.
On 7 December, Robert is scheduled to visit a rural school in Mosquero, NM, - about 250 miles east of Albuquerque. He will be taking his telescope and giving the students a look at the sun and the many sunspots that are currently visible. He is doing this through the Visiting Scientist program of the New Mexico Academy of Sciences. Later, he has visits scheduled to schools in Hondo Valley, Tatum, and Rio Rancho.
Robert continues to serve as treasurer of the Albuquerque Section of the American Institute of Aeronautics and Astronautics.
AT WORK
Robert is not working on the staff at our church now, since a full-time computer system administrator was hired to replace Robert and Dale. He has a resume on file at Excel Staffing in hopes of finding some short-time work opportunities.
THE BOTTOM LINE
We continue to be thankful for the Lord's providing for us in all ways. We trust in Him, and pray that you will do likewise and enjoy a blessed Christmas season and New Year as well.
Page last updated: 14 March 2007