4 July 2000 Click on the pictures to enlarge them.
Greetings again from New Mexico.
ROBERT - VISITING SCIENTIST
Robert has made three school visits under the Visiting Scientist Program of the New Mexico Academy of Science. He has visited Hondo Valley School, Tatum High School, and Rio Rancho High School. Students at each school had the opportunity to view the sun through a telescope and observe sunspots.


Viewing Sunspots at Tatum High School.
Robert then talked to the classes about the sunspots, the solar activity cycle, the solar system, and other topics of interest in astronomy.
LINDA'S EMBROIDERY CLASS
This winter, Linda taught a class in silk ribbon embroidery at our church's women's ministry program on Thursday mornings. You can see part of what she was teaching on her web page.
SPECIAL CONCERTS
We were able to participate in two very special concerts this winter with the Hoffmantown Church Celebration Choir.
In January we were invited to sing as backup choir in the Albuquerque Twila Paris concert. Also featured on tour with Twila this year is Fernando Ortega whom we have known for a long time. He was a member of our church before he began his own performing and recording career. We have several of his CDs. It was good to see Fernando again, and an honor to be part of Twila's concert.
On 12 March our choir joined with cantor Josh Perlman and the B'nai Israel choir and also singers from some other local Christian churches for a special Sunday evening program at our church. It was a challenge learning several songs in Hebrew! (L'dor Vador, Yeshecheyanu, & Sim Shalom) Josh and some of his choir members also sang with us at our regular 9:30 Sunday morning service. We all enjoyed the time together as we honored Israel.
Our third special concert was one in which we did not sing. On 5 February, The Chieftains came to Albuquerque from Ireland. We really enjoyed their concert very much. We have several of their CD's.
SAD TIMES
On 12 March, we learned that Linda's uncle Bill Baxter of Salina, Kansas, was very ill and not expected to live much longer. He died on the 14th. On the 16th we drove up to Colorado Springs to pick up uncle Fremont. The next day we took him with us to Salina. The memorial service was on the 18th in Christ Cathedral.


Aunt Sue and Cousins in Salina, KS.
We took uncle Fremont home on the 19th and then came back to Albuquerque on the 20th. We just missed some heavy snowstorms that occurred immediately before and after we passed through Colorado.
CELTS LECTURES
We attended the University of New Mexico Spring lecture series at the end of March. It was very interesting. The title was "The Celts in Britain and Ireland". Subjects were: Celtic mythology, literature, culture, music, and archaeological explorations at Tintagel, Cornwall. Bernard Meehan, Trinity College, spoke about the Book of Kells. We are hoping to be able to see the film that was made about the Book of Kells and should be shown in the USA this year. Some students of Robert's distant cousin, James Malseed, of Shankill, Ireland, are featured in the film. You can read about it at their web site that James maintains.
http://homepage.tinet.ie/~kogrange/fourthclass.html
LINDA'S LECTURE
On 10 - 12 April we spent some time in Las Cruces, about 220 miles south of here. We visited our friends, Kent and Julie. Linda was invited to talk to Julie's class at Mesilla Elementary School about ancient New Mexico culture. She showed many slides that Robert had taken on our trips to historic sites through out the state.
NORTH ARIZONA & SOUTH UTAH
Our first trip of the year in our Safari Trek began on 15 May. We wanted to attend a Safari motor coach owners rally in Arizona, and then visit both sides of the Grand Canyon, and then visit south central Utah. We camped along the Mogollon Rim in Arizona at the Greer, Lakeside and Christopher Creek campgrounds. We hiked on some of the rim and on part of the old Crook's trail. This trail was built under the leadership of General Crook in the early 1870s. It connected Fort Apache and Fort Verde and became a major road in Arizona. We were able to visit old Fort Apache on the White Mountain Apache Reservation. Then we attended the rally of Safari owners at the Thousand Trails RV resort near Cottonwood along the Verde River. While there, we visited the Clemenceau Museum in Cottonwood, the Fort Verde Historic site, the Montezuma Castle cliff dwelling ruins, and Montezuma Well (a natural sink hole that helps provide water to Beaver Creek). After that, we headed north through Sedona and camped at Cave Spring campground in Oak Creek Canyon. We visited Red Rock State Park, Red Rock Crossing (of Oak Creek), (a popular place to view cathedral rock.)


Cathedral Rock.
We also drove up Schnebly Hill Road for a great view of Sedona. Our next stop was the South Rim of the Grand Canyon. We camped in the park at Mather campground. That evening we went out to Yavapai Point and watched the canyon as the sun set. Pico went with us and was somewhat of a hit himself with many of the other tourists. A Japanese family video taped him doing tricks for their little boy.


Grand Canyon sunset.
From the South Rim we made the 213-mile trip to the North Rim. (We had been to the South Rim twice, but never to the North Rim.) We spent two nights in the campground there. We both enjoyed the North Rim. The drive down there is through miles of forest and meadows at an altitude of over 8000 feet. On the second day, we drove out to Cape Royal on the Walhalla Plateau and went through some areas that had been burned in the fire that was still being fought. As we returned to the campground that afternoon, we were stopped by the fire fighters as an area that had been smoldering in the morning had been fanned by winds during the day and had burst into flames along each side of the road. They finally let us through the burning area. The next day, we continued on northward. We stopped to see the Coral Pink Sand Dunes State Park in Utah, and then went to Bryce Canyon National Park.


Erosion creates the Bryce Hoodoos.
We had been there for a day 20 years ago. That was in our tent camping days. The campground is much larger now. We fortunately found a great site. They fill up every night. We stayed four nights. We hiked some of the trails and traveled the park from one end to the other.


The Poodle at Bryce Canyon.
We went to hear several ranger talks at the Lodge. We saw deer each day, and a wild turkey the first day. Bryce Canyon lies between 8000 and 9100 feet in altitude. It was very pleasant with cool nights. We very much enjoyed a relaxed time there. Bryce is really only half a canyon. It is the eastern edge of a plateau that has been eroded into many colorful columns of rock.


Looking back after hiking up out of Bryce Canyon.
While there, we also drove down off the plateau to visit Grosvenor Arch and Kodachrome Basin State Park. The park is known for its colorful rock and the stone "chimneys" that are found only there. Our next destination was the town of Escalante. We checked in at an RV park then we drove down Hole-In-The-Rock road to a point where we could hike into a slot canyon. It was quite hot and the hike down a couple hundred feet wasn't too bad, but the hike back to the parking area was pretty tiring, especially since some of it was up sandy slopes. Down in the bottom of the wash area, we walked up the narrow dry fork slot canyon until we met a rattlesnake.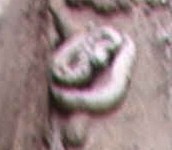 Rattlesnake guards his canyon.
It was small, but the sign at the trailhead warned about midget faded rattlesnakes. The canyon was only a few feet wide at this point, so there was no chance to get by. From the slot canyon area, we drove over to a place called the "Devil's Garden". It is an area of unusually sculptured rock formations, as you can see in this photo of a small arch.


Small arch in the Devil's Garden.
This entire area of Utah, east of Escalante stretching to Capitol Reef and Lake Powell and down south to Arizona is the Escalante - Grand Staircase National Monument. The "staircase" refers to the series of cliffs that you encounter as you travel north from the Grand Canyon. (Vermillion, Chocolate, Pink, White). The next stop on our trip was Torrey, Utah, near Capitol Reef National Park. We were at Capitol Reef six years ago, but at that time the road into Capitol Gorge was closed. This time, we were able to go down there and to hike further into the gorge and see the Pioneer Register. That is where the early pioneers carved their names on the sandstone walls. We also hiked up to the "tanks" - natural water containment areas. From Capitol Reef we drove to Canyon De Chelly where we stayed the last night. We arrived back in Albuquerque on 1 June. As usual, this area of the southwest is full of foreign visitors. Many Europeans rent motor homes and travel throughout the area visiting our national parks. We even saw a couple motor homes that had been brought from Germany.
RESEARCH IN SALT LAKE CITY
We spent 13 to 22 June in Salt Lake City at the Camp VIP campground. On the way up and back we spent a night at McPhee Reservoir in southwest Colorado. On the 14th, we were joined by James, Norma Jean, Chris, and Stacy as they were on their way back to Albuquerque from Montana. They have a 24-foot trailer that they tow with a Suburban. Most of the other days in Salt Lake City we spent at the Family History Library. Linda spent most of her time trying to figure out where the Baxter family came from - without much luck. She did look through a lot of English records. Robert was much more successful. He found the record of his maternal grandfather leaving the city of Sangerhausen in Germany in 1894.


Wilhelm Sichardt leaves Sangerhausen.
Robert also found the ship's passenger list containing the name of his 3rd great grandfather, John Malseed. He left Londonderry, Ireland, and arrived in New York City aboard the Brig Agnes on 12 April 1821. There were six passengers on the small ship The ship sailed from Lisbon, Portugal, and must have picked up its passengers in Londonderry. Robert also discovered much information about his 2nd great grandmother Eliza Malseed's family - especially her brother Garrett Shubert and his descendants. We will be visiting where they lived in Missouri on our RV trip in August.
BACK TO SCHOOL
This August, Linda will be returning to the classroom. She will be teaching 8th grade English and 6th grade Math and Science at Hope Christian School. Our niece, Stacy, and nephew, Chris, are students at Hope. Their brother, Mathew, graduated this year.
THE BOTTOM LINE
We continue to be thankful for the Lord's provision for us. We trust in Him, and pray that you will do likewise.
Love,
Robert & Linda
& Pico
Return to top of page.
Page last updated: 14 March 2007